Data Science Insights Magazine is a quarterly publication whose primary objective is to educate readers about emerging data science research trends. This magazine's goal is to highlight the latest developments in the field of data science.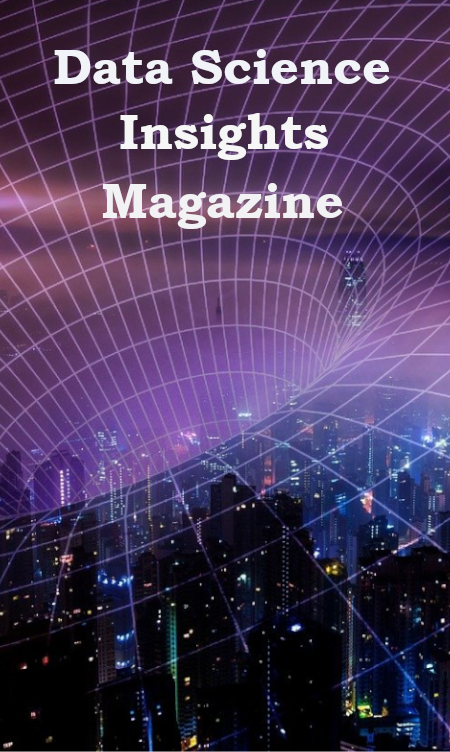 Aim & Scope
With today's technology, companies are able to collect tremendous amounts of data with relative ease. Indeed, many companies now have more data than they can handle. However, the data are usually meaningless until they are analyzed for trends, patterns, relationships, and other useful information.
The purpose of Data Science Insights Magazine is to develop statistical techniques in big-data sciences, to facilitate the interchange of ideas about statistics and data science, and to embrace the difficulties and possibilities that statistics and data science face in the contemporary world. It covers a range of topics in advanced statistical analysis in the field of big data sciences, including methods for administrative data analysis, survival data analysis, missing data analysis, high-dimensional and genetic data analysis, longitudinal and functional data analysis, the design and analysis of studies with response-dependent and multi-phase designs, time series, and robust statistics, and statistical inference using likelihood, empirical likelihood, and estimating function. This magazine published quarterly and targeted at researchers, students, academicians, and business professions in the field.
Key Topics
The article can be theoretical, practical, and application-oriented on the following topics but not limited to:
Data Science and Machine Learning.
Data Science and AI
Blockchain and Advance Data Science
Cloud compuitng and Big data
Business Intelligence and Big data.
Statistical Foundation for Data Science.
Probability and Statistics for Data Science.
Statistical Inference via Data Science.
Big Data and Business Analytics.
Statistical thinking in Business.
Data Driven Statistical Methods.
Statistical Methods for Spatial Data Analytics.
Statistical Techniques for Data Analysis.
Data Science in Communication.
Information and Communication Technology.
Graph data management for social network applications.
Metadata for Information Management.
Information/Data: Organization and access.
Information Science and Electronic Engineering.
Bigdata and Social Science.
Health communication.
Data communication and computer Network.
ICT & Data Analytics.
Published Articles
Frequency
Data Science Insights Magazine is a continuous volume Magazine.
Editorial Team
Editor-in-chief

Francisco José García-Peñalvo, University of Salamanca, Spain
Associate Editor

Xiaojun Chang, RMIT University, Australia
P. Chaurasia, Ulster University, Magee campus, Londonderry, UK
Sunil K. Singh, CCET (Degree Wing), Panjab University, Chandigarh, India
Ivan Cvitić, University of Zagreb, Croatia
Editorial Board Members

Yuk. Ming Tang, The Hong Kong Polytechnic University, Hong Kong
Phuc Do, University of Information Technology, Vietnam
Dragan Peraković, University of Zagreb, Croatia
Pethuru Raj, Vice President, Reliance Jio Infocomm. Ltd (RJIL), India
Sugam Sharma, Founder & CEO, eFeed-Hungers.com, USA
Surya Prakash, Indian Institute of Technology Indore, India
Yujiang Li, Nanjing university of information science and technology, China
Mucheol Kim, Chungang university, Seoul, South, Korea
Milad Taleby Ahvanooey, Nanjing University (NJU), P.R. China
Justin Zhang, University of North Florida, USA
Rajhans Mishra, Indian Institute of Management Indore, India
S. Veluru, United Technologies Research Centre Ireland, Ltd., Ireland
Chinthaka Premachandra, Shibaura Institute of Technology, Japan
Brij B. Gupta, National Institute of Technology Kurukshetra, India
Kwok Tai Chui, The Open University of Hong Kong, Hong Kong
Zhili Zhou, Nanjing university of information science and technology, China
Mohammed Ali, University of Manchester, UK
Abhay Ratnaparkhi, IBM, USA

Konstantinos Psannis, University of Macedonia, Greece
Submission Checklist
Articles should be comprehensible to a diverse audience of readers seeking knowledge to utilize in their everyday job. Writing should be straightforward, practical, unique, and understandable to all readers, regardless of their field of expertise. Assume nothing about your audience's expertise in any single topic.
The length of the article should be around 2500-4000 words (excluding references). Use of concise, clear, coherent, and error-free language is highly recommended.
The article provides "Conceptual Ideas or Knowledge" on the topic by including quality technical information.
References should be included only to guide readers to more information on the topic; the reference list should not include every available source. A limit of 15 archival references is recommended.
Article must contain at least 4 keywords that should closely reflect your article topic.
Figures and tables should be limited to a combined total of six. If the article exceeds these recommended limits, contact the Editor-in-chief.
It is the author's obligation to get permission to print and publish figures in our digital collection. If the author did not produce the figure, he or she must get permission from the image's owner.
Submit the figure (300 dpi) along with the article.
Prepare your paper according to the Word Template, or Latex Template
Review Process
We solicit peer reviews from at least two researchers. Reviewers are assigned to manuscripts based on their expertise. Reviews are used as the basis for acceptance and content revisions. The editor-in-chief makes the final decision regarding publication.
Copyright Information
Articles submitted must be published under the Insights2Techinfo copyright.
Author needs to submit the copyright form at the time of final acceptance of the paper.
Submit Your Paper
Store the paper (world of latex source files) and images (300 dpi) in one folder (.zip).
Fill the submission form and upload the .zip folder.
Contact Us
All questions about submissions should e-mail to; contact@insights2techinfo.com