The 2023 Stanford University List of "Top 2% Most Influential Scientists" is a prestigious acknowledgment that celebrates the outstanding contributions of researchers whose work has had a significant impact on their respective fields. In this blog post, we turn our attention to the exceptional researchers from Taiwan who have earned a coveted place on this esteemed list. Through a comprehensive analysis, we'll delve into the distribution of these researchers by rank, affiliation, and subject, offering insights into their remarkable achievements in 2022.
Distribution by Rank
Taiwanese researchers featured on the 2023 Stanford University List hold diverse positions that reflect the influence of their work in 2022. Figure 1 provides an overview of the distribution of these influential scientists across different ranks. This analysis will help us understand the depth and breadth of their impact in their respective domains.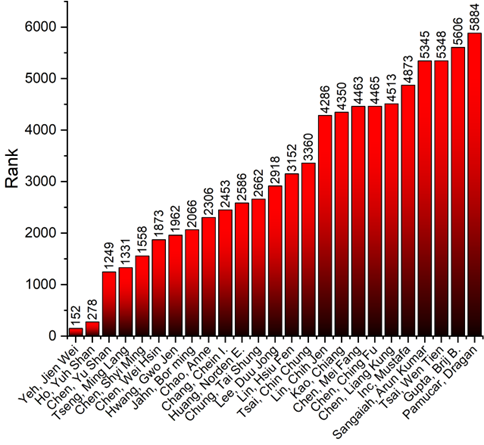 Distribution by Affiliation
Affiliations, whether academic or corporate, play a crucial role in shaping the careers of scientists. Figure 2 offers insights into the institutions and organizations that have nurtured and supported the careers of Taiwanese researchers. These affiliations serve as the backbone of Taiwan's research ecosystem.
Distribution by Subject
Taiwanese researchers have made significant contributions across various subject areas. Figure 3 showcases the diversity of expertise among these influential individuals. Whether it's in fields like medicine, engineering, or social sciences, the list represents a wide spectrum of knowledge that has left a lasting impact on their respective disciplines.
Conclusion
In conclusion, the presence of Taiwanese researchers on the 2023 Stanford University List of "Top 2% Most Influential Scientists (Single Year 2022)" is a testament to Taiwan's growing prominence in the global research landscape. This analysis has illuminated the distribution of these scientists by rank, affiliation, and subject, highlighting their exceptional contributions during 2022. Their work not only advances knowledge but also inspires the next generation of researchers in Taiwan to aim for greatness.
References
5416
3
2
cookie-check
Top 2% Most Influential Scientists (Single Year 2022) in 2023 Stanford University List: Analysis of Taiwanese Researchers