By: Vajratiya Vajrobol, International Center for AI and Cyber Security Research and Innovations (CCRI), Asia University, Taiwan, vvajratiya@gmail.com
Introduction
A new age of innovation and change is being ushered in by artificial intelligence (AI) in a number of industries. This also applies to public transportation, which has long been an essential part of urban mobility. This article will examine how artificial intelligence (AI) is poised to transform public transportation in the future by providing more effective, environmentally friendly, and passenger-focused solutions.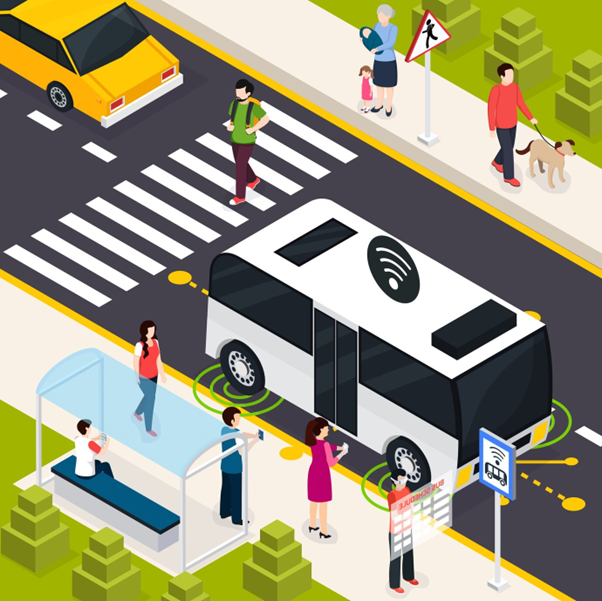 1. Flexible Routing
By providing intelligent and flexible routing, AI-powered solutions can greatly increase the efficiency of public transportation networks. These systems dynamically modify routes and timetables based on real-time data from multiple sources, such as traffic cameras, GPS, and sensors. Reduced traffic, faster travel times, and an improved overall experience are all available to passengers [1].
2. Maintaining Predictiveness
The upkeep of infrastructure and vehicles is one of the difficulties associated with public transportation. Real-time condition monitoring of buses, railroads, and other assets is possible with AI-driven predictive maintenance solutions. Their ability to recognize and resolve maintenance problems before they result in expensive malfunctions makes services more dependable and effective [2].
3. Driverless Cars
The incorporation of self-driving cars into public transportation networks is revolutionary. Self-driving buses and shuttles powered by AI have the ability to operate around-the-clock, save labor expenses, and increase safety. These automobiles can function as a seamless link between passengers and their destinations as part of an extensive multimodal transportation network [3].
4. Improved Client Relations
Additionally, AI is changing the traveler experience. Chatbots and virtual assistants are capable of giving passengers personalized advice, answering inquiries, and delivering real-time information. Passengers can pay for and access services more easily with the use of AI, which can optimize ticketing and payment systems [4-5].
5., Traffic Control
Congestion can be decreased and traffic management can be optimized with AI. Dynamic traffic flow control and smart traffic lights can prioritize public transportation in real-time, increasing service dependability and speed [6].
6. Adaptability
Taking public transportation is a critical step towards solving environmental issues. By streamlining routes, encouraging carpooling, and assisting in the switch to electric or hybrid vehicles, AI can lower emissions and improve sustainability. Cities may lower their carbon footprint by using AI to support data-driven decision-making [7].
7. Security and Safety
For those in charge of public transportation, public safety comes first. Through face recognition, predictive policing, and real-time station and vehicle surveillance, AI technologies can improve security. Both the safety of the passengers and the effectiveness of incident response are increased.
8. Availability
People with impairments stand to gain a great deal from AI-driven public transportation solutions. Passengers with mobility challenges can find it easier to use public transit services thanks to these technologies, which can offer individualized help [8].
Difficulties and Ethical Issues
Public transportation's AI-driven future is exciting, but it's not without its difficulties and moral dilemmas. Concerns about bias in AI algorithms, data privacy, and employment displacement must all be properly addressed. Furthermore, it is crucial to guarantee that everyone in society has fair access to AI-enhanced public transportation services.
In summary
Public transportation is changing in ways that were previously unthinkable in the AI era. AI has the potential to improve public transportation's efficiency, convenience, and environmental friendliness through a variety of means, including route optimization, traffic reduction, passenger experience enhancement, and sustainability promotion. To guarantee that the advantages are available to everybody while limiting any drawbacks, stakeholders must address the ethical and societal implications of AI in public transportation. In the AI era, public transportation promises to revolutionize mobility. With thoughtful planning and investment, this can pave the way for a better, more accessible, and more effective future for cities all over the world.
References
Cite As:
Vajrobol V. (2023) AI Era's Prospects for Public Transportation: A Revolution in Mobility, Insights2Techinfo, pp.1
5614
0
0
cookie-check
The AI Era's Prospects for Public Transportation: A Revolution in Mobility