Using Scopus publication impact scores, experts from Stanford University have released a complete list of the top 2% world's most influential scientists [1]. Prof. John PA Loannidis and his colleagues at Stanford University [2] compiled the study, which Elsevier then published. This list analyzes some of the famous private universities and colleges' performances according to the Stanford list. Figure 1 represents the total citation of the researchers from these premium institutes according to the Stanford University list. From figure1, we can say that researchers from Bharathiar University are publishing the most cited papers.
Apart from the number of citations, the quantity of research publications in the Stanford University library is another useful metric for assessing the institution. Figure 2 depicts the research output of each institution. As seen in Figure 2, the majority of researchers at the VIT institution are featured on the Stanford University list.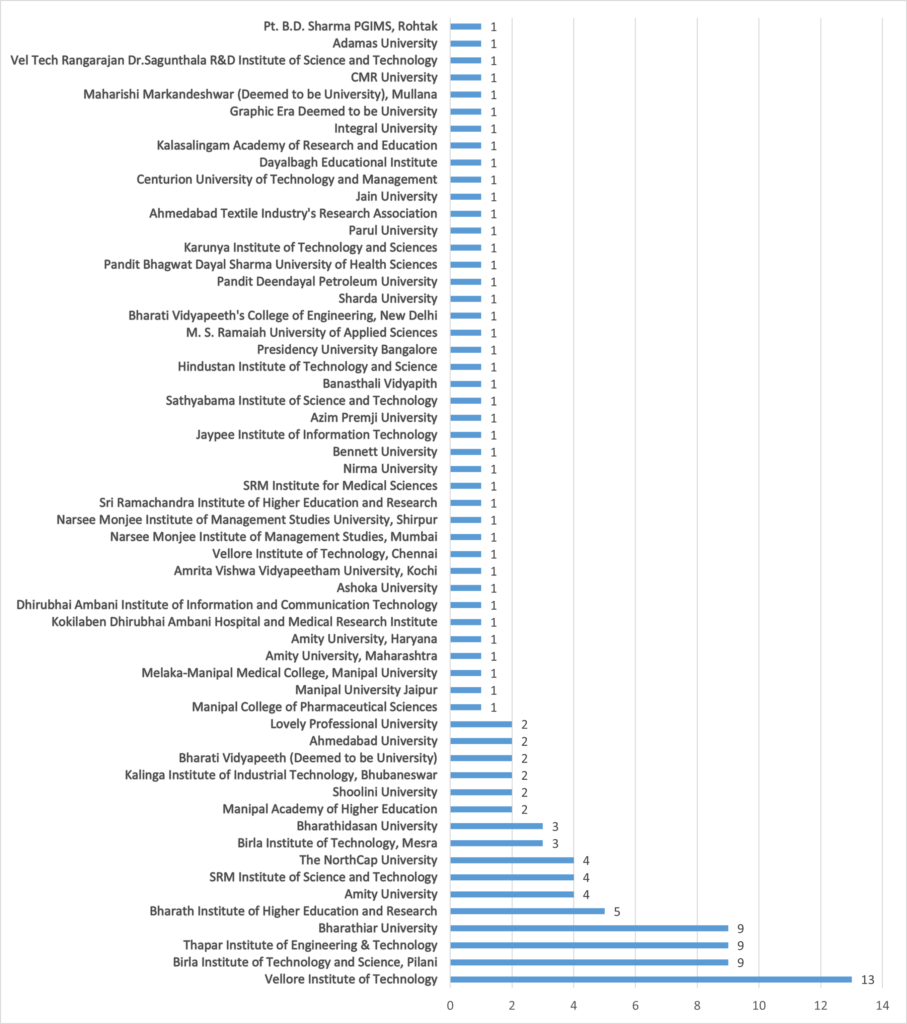 Additionally, the subject list is a great metric for evaluating the success of institutions. Figures 3 and 4 depict the most popular themes among researchers and their relationship to the institutions, respectively. As seen in Figures 3 and 4, "Polymers" is the most popular topic; within the VIT institution, research is conducted on various issues. Finally, Table 1 summarizes the performance of private institutes performance.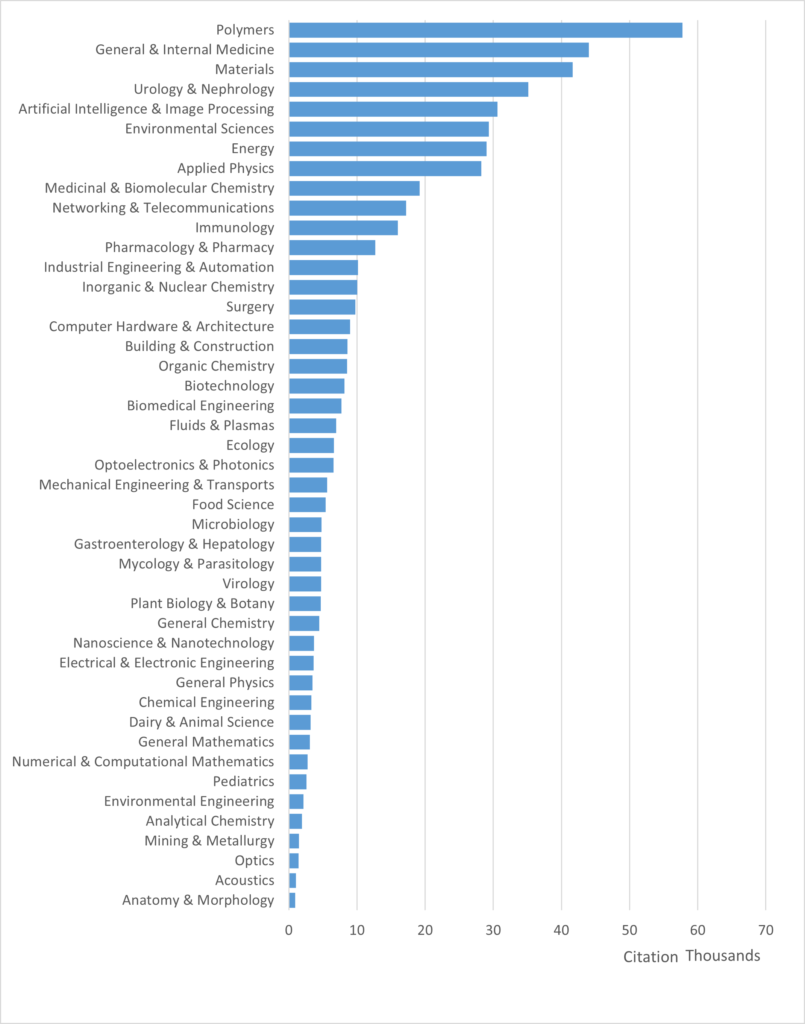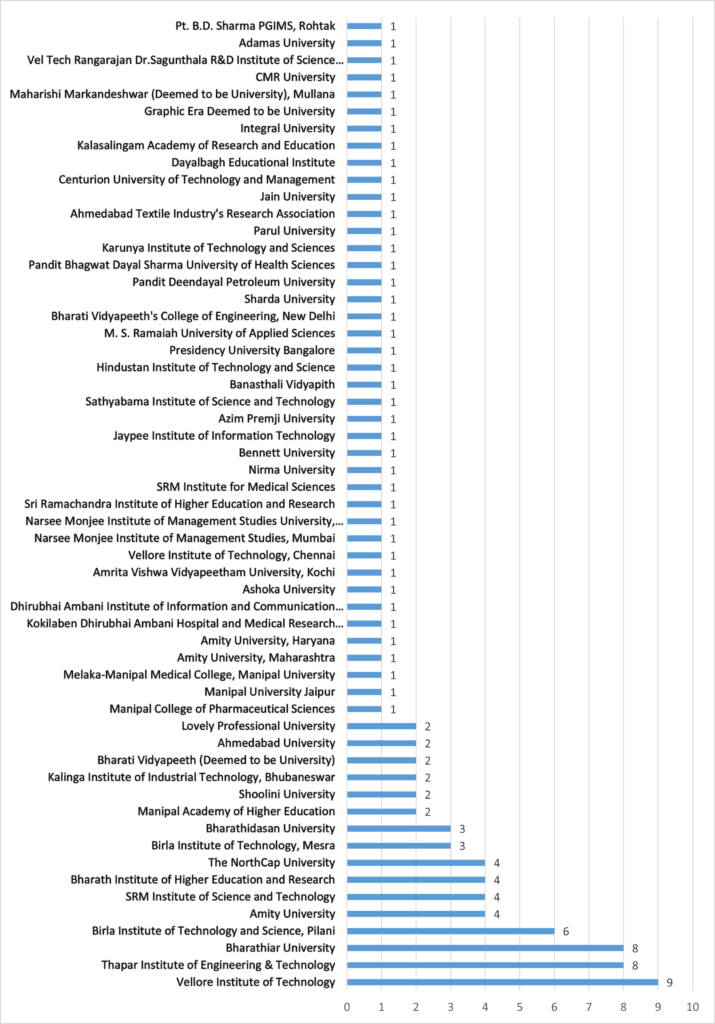 Table 1: Private Institutes in Stanford University's Top 2% Most Influential Scientists List
| Name | Affiliation | world Rank | Citation | Subject | Subject Rank |
| --- | --- | --- | --- | --- | --- |
| Jha, Vivekanand | Manipal Academy of Higher Education | 16180 | 35141 | Urology & Nephrology | 155 |
| Mathur, Deepak | Manipal Academy of Higher Education | 86266 | 3482 | General Physics | 501 |
| Udupa, Nayanabhirama | Manipal College of Pharmaceutical Sciences | 219223 | 4487 | Pharmacology & Pharmacy | 2487 |
| Mukhopadhyay, Anoop Kumar | Manipal University Jaipur | 290879 | 2321 | Materials | 4176 |
| Nayak, Satheesha B. | Melaka-Manipal Medical College, Manipal University | 339193 | 920 | Anatomy & Morphology | 89 |
| Srivastava, P. K. | Birla Institute of Technology, Mesra | 5111 | 15979 | Immunology | 217 |
| Sriram, Dharmarajan | Birla Institute of Technology and Science, Pilani | 113766 | 10719 | Medicinal & Biomolecular Chemistry | 423 |
| Gupta, Amit Kumar | Birla Institute of Technology and Science, Pilani | 136146 | 2789 | Electrical & Electronic Engineering | 384 |
| Sangwan, K. S. | Birla Institute of Technology and Science, Pilani | 157423 | 2200 | Industrial Engineering & Automation | 1041 |
| Yogeeswari, Perumal | Birla Institute of Technology and Science, Pilani | 167114 | 8480 | Medicinal & Biomolecular Chemistry | 680 |
| Kumar, Rajesh | Birla Institute of Technology and Science, Pilani | 178528 | 2188 | Artificial Intelligence & Image Processing | 3224 |
| Choudhury, Arup | Birla Institute of Technology, Mesra | 205944 | 1172 | Polymers | 2095 |
| Bhattacharyya, Souvik | Birla Institute of Technology and Science, Pilani | 224571 | 2054 | Mechanical Engineering & Transports | 1698 |
| Ghosh, Narendra Nath | Birla Institute of Technology and Science, Pilani | 270110 | 2959 | Materials | 3885 |
| Srinivasan, Ashwin | Birla Institute of Technology and Science, Pilani | 296779 | 1427 | Artificial Intelligence & Image Processing | 4912 |
| Bandyopadhyay, Debashis | Birla Institute of Technology and Science, Pilani | 394380 | 475 | Materials | 5357 |
| Misra, Ashok | Birla Institute of Technology, Mesra | 420704 | 1037 | Materials | 4939 |
| Late, Dattatray J. | Amity University, Maharashtra | 37723 | 8456 | Applied Physics | 944 |
| Prasad, Rajendra | Amity University, Haryana | 109900 | 4792 | Microbiology | 2308 |
| Dutta, Saikat | Amity University | 118086 | 3888 | Organic Chemistry | 2402 |
| Varma, Ajit | Amity University | 127859 | 4670 | Plant Biology & Botany | 1676 |
| Gupta, Ajay | Amity University | 216779 | 3692 | Applied Physics | 4272 |
| Singh, Prem Kumar | Amity University | 369577 | 478 | Artificial Intelligence & Image Processing | 3395 |
| Singhal, Tanu | Kokilaben Dhirubhai Ambani Hospital and Medical Research Institute | 139559 | 2566 | Pediatrics | 884 |
| Das, Manik Lal | Dhirubhai Ambani Institute of Information and Communication Technology | 197240 | 1498 | Artificial Intelligence & Image Processing | 3508 |
| Siddique, Rafat | Thapar Institute of Engineering & Technology | 8026 | 8592 | Building & Construction | 11 |
| Garg, Harish | Thapar Institute of Engineering & Technology | 10385 | 6155 | Artificial Intelligence & Image Processing | 94 |
| Gupta, Raj Kumar | Thapar Institute of Engineering & Technology | 63782 | 8978 | Computer Hardware & Architecture | 69 |
| Kumar, Neeraj | Thapar Institute of Engineering & Technology | 117091 | 10357 | Networking & Telecommunications | 916 |
| Kumar, Vijay | Thapar Institute of Engineering & Technology | 124351 | 3214 | Dairy & Animal Science | 373 |
| Pandey, O. P. | Thapar Institute of Engineering & Technology | 124648 | 4914 | Materials | 1393 |
| Bajpai, Pramod Kumar | Thapar Institute of Engineering & Technology | 201306 | 1736 | Biotechnology | 733 |
| Kaler, R. S. | Thapar Institute of Engineering & Technology | 407187 | 1422 | Optics | 1197 |
| Singh, K. | Thapar Institute of Engineering & Technology | 446172 | 2506 | Materials | 5607 |
| Bhatia, Rajendra | Ashoka University | 53311 | 2777 | Numerical & Computational Mathematics | 90 |
| Jayakumar, Rangasamy | Amrita Vishwa Vidyapeetham University, Kochi | 31710 | 16825 | Polymers | 335 |
| Ganapathi, M. | Vellore Institute of Technology | 98467 | 3247 | Materials | 1369 |
| Das, Nilanjana | Vellore Institute of Technology | 103933 | 2354 | Pharmacology & Pharmacy | 1163 |
| Roopan, Selvaraj Mohana | Vellore Institute of Technology | 114581 | 3451 | Inorganic & Nuclear Chemistry | 749 |
| Ramalingam, Murugan | Vellore Institute of Technology | 146605 | 6593 | Biomedical Engineering | 683 |
| Vijayalakshmi, M. A. | Vellore Institute of Technology | 181041 | 1953 | Analytical Chemistry | 1377 |
| Mukherjee, Amitava | Vellore Institute of Technology | 186588 | 8251 | Environmental Sciences | 1267 |
| Prashanth, Konda Gokuldoss | Vellore Institute of Technology | 187602 | 3649 | Materials | 2173 |
| Sangaiah, Arun K. | Vellore Institute of Technology | 190989 | 6852 | Networking & Telecommunications | 1816 |
| Cherukuri, Aswani Kumar | Vellore Institute of Technology | 226772 | 1292 | Artificial Intelligence & Image Processing | 2390 |
| Siva, R. | Vellore Institute of Technology | 275394 | 1261 | Biotechnology | 804 |
| Grace, Andrews Nirmala | Vellore Institute of Technology | 302065 | 3488 | Materials | 5223 |
| Geetha, M. | Vellore Institute of Technology | 316523 | 4374 | Materials | 5529 |
| Dayal, R. K. | Vellore Institute of Technology, Chennai | 342355 | 2057 | Materials | 4479 |
| Thirumalai, Chandrasegar | Vellore Institute of Technology | 784135 | 431 | Artificial Intelligence & Image Processing | 4337 |
| Misra, Ambikanandan | Narsee Monjee Institute of Management Studies, Mumbai | 113404 | 5842 | Pharmacology & Pharmacy | 1215 |
| Mohanty, Basant K. | Narsee Monjee Institute of Management Studies University, Shirpur | 518787 | 872 | Electrical & Electronic Engineering | 2217 |
| Balakrishnan, Kalpana | Sri Ramachandra Institute of Higher Education and Research | 198094 | 38453 | General & Internal Medicine | 2035 |
| Maiyalagan, T. | SRM Institute of Science and Technology | 54879 | 6599 | Energy | 612 |
| Ramakrishna, B. S. | SRM Institute for Medical Sciences | 66711 | 4768 | Gastroenterology & Hepatology | 989 |
| Selvamurugan, N. | SRM Institute of Science and Technology | 181348 | 7130 | Polymers | 1698 |
| Sekaran, G. | SRM Institute of Science and Technology | 269318 | 5146 | Biotechnology | 965 |
| Muthuramalingam, T. | SRM Institute of Science and Technology | 361372 | 899 | Materials | 4173 |
| Kalva, Hari | Nirma University | 286425 | 1230 | Artificial Intelligence & Image Processing | 5136 |
| Thyagarajan, K. | Bennett University | 328559 | 2272 | Optoelectronics & Photonics | 1671 |
| Kumar, Manoj | Jaypee Institute of Information Technology | 181444 | 3108 | Applied Physics | 5839 |
| Nagendra, Harini | Azim Premji University | 27163 | 6597 | Ecology | 440 |
| Sharma, Gaurav | Shoolini University | 207811 | 5021 | Polymers | 1845 |
| Chandel, Shyam Singh | Shoolini University | 218817 | 3391 | Energy | 2614 |
| Murugadoss, Govindhasamy | Sathyabama Institute of Science and Technology | 175883 | 1130 | Applied Physics | 4994 |
| Kaur, Navjeet | Banasthali Vidyapith | 396651 | 525 | Organic Chemistry | 372 |
| Prabaharan, M. | Hindustan Institute of Technology and Science | 43913 | 6468 | Polymers | 484 |
| Anand, Anil C. | Kalinga Institute of Industrial Technology, Bhubaneswar | 203230 | 1969 | General & Internal Medicine | 2067 |
| Paramguru, Raja Kishore | Kalinga Institute of Industrial Technology, Bhubaneswar | 521787 | 907 | Mining & Metallurgy | 284 |
| Hemanth, Joel | Presidency University Bangalore | 360317 | 474 | Materials | 4899 |
| Ramakrishnan, N. | M. S. Ramaiah University of Applied Sciences | 167073 | 1914 | Materials | 2491 |
| Singh, Ashish Kumar | Bharati Vidyapeeth's College of Engineering, New Delhi | 81383 | 4158 | Organic Chemistry | 1447 |
| Singh, Raj Pal | Bharati Vidyapeeth (Deemed to be University) | 111091 | 4122 | Polymers | 1127 |
| Arankalle, Vidya | Bharati Vidyapeeth (Deemed to be University) | 119227 | 4729 | Virology | 1069 |
| Lakshmanan, M. | Bharathidasan University | 29084 | 6951 | Fluids & Plasmas | 211 |
| Sakthivel, R. | Bharathiar University | 40556 | 7933 | Industrial Engineering & Automation | 303 |
| Siddhuraju, Perumal | Bharathiar University | 45290 | 5397 | Food Science | 192 |
| Namasivayam, Chinnaiya | Bharathiar University | 46195 | 11182 | Environmental Sciences | 284 |
| Rakkiyappan, R. | Bharathiar University | 113200 | 6363 | Artificial Intelligence & Image Processing | 1924 |
| Balachandran, Krishnan | Bharathiar University | 114568 | 3085 | General Mathematics | 470 |
| Kadirvelu, Krishna | Bharathiar University | 146132 | 7917 | Environmental Sciences | 1051 |
| Kumaravel, A. | Bharath Institute of Higher Education and Research | 157012 | 2640 | Artificial Intelligence & Image Processing | 3035 |
| Palaniandavar, Mallayan | Bharathidasan University | 167034 | 6593 | Inorganic & Nuclear Chemistry | 1282 |
| Manikandan, A. | Bharath Institute of Higher Education and Research | 172921 | 6055 | Applied Physics | 4965 |
| Selvan, Ramakrishnan Kalai | Bharathiar University | 177505 | 5828 | Applied Physics | 5833 |
| Rela, Mohamed | Bharath Institute of Higher Education and Research | 184026 | 9759 | Surgery | 1730 |
| Mohanavel, V. | Bharath Institute of Higher Education and Research | 198529 | 1360 | Materials | 2208 |
| Murugan, Kadarkarai | Bharathiar University | 231820 | 4741 | Mycology & Parasitology | 428 |
| Vijayaragavan, S. P. | Bharath Institute of Higher Education and Research | 285127 | 1325 | Artificial Intelligence & Image Processing | 5873 |
| Selvasekarapandian, S. | Bharathiar University | 311082 | 4139 | Energy | 4225 |
| Mahadevan, C. K. | Bharathidasan University | 378622 | 1116 | Materials | 4427 |
| Singh, Nakshatra B. | Sharda University | 101513 | 2647 | Materials | 1507 |
| Patel, Vivek K. | Pandit Deendayal Petroleum University | 233250 | 2360 | Mechanical Engineering & Transports | 1494 |
| Chugh, S. N. | Pandit Bhagwat Dayal Sharma University of Health Sciences | 302264 | 1049 | General & Internal Medicine | 3618 |
| Selvakumar, Anburaj Immanuel | Karunya Institute of Technology and Sciences | 221881 | 2017 | Energy | 3446 |
| Fulekar, M. H. | Parul University | 193578 | 1990 | Environmental Sciences | 1382 |
| Singh, Sanjay | Ahmedabad University | 124298 | 3691 | Nanoscience & Nanotechnology | 1039 |
| Jain, A. K. | Ahmedabad Textile Industry's Research Association | 174680 | 1054 | Acoustics | 624 |
| Shukla, Priyardarshi R. | Ahmedabad University | 194290 | 2191 | Energy | 2242 |
| Iyengar, R. N. | Jain University | 191745 | 1202 | Mechanical Engineering & Transports | 1499 |
| Buddhi, D. | Lovely Professional University | 323553 | 6384 | Energy | 4507 |
| Subbaiah, Tondepu | Lovely Professional University | 828190 | 583 | Mining & Metallurgy | 579 |
| Swamee, Prabhata K. | The NorthCap University | 88688 | 2155 | Environmental Engineering | 376 |
| Varma, I. K. | The NorthCap University | 115439 | 5394 | Polymers | 1200 |
| Sodha, Mahendra Singh | The NorthCap University | 121092 | 4310 | Energy | 1093 |
| Singh, Kehar | The NorthCap University | 188721 | 3807 | Optoelectronics & Photonics | 743 |
| Dash, Chandra Sekhar | Centurion University of Technology and Management | 397875 | 1714 | General & Internal Medicine | 4417 |
| Roy, Sukhdev | Dayalbagh Educational Institute | 557353 | 464 | Optoelectronics & Photonics | 1896 |
| Devaraj, D. | Kalasalingam Academy of Research and Education | 213918 | 2186 | Artificial Intelligence & Image Processing | 3720 |
| Srivastava, V. P. | Integral University | 235323 | 1103 | Biomedical Engineering | 1263 |
| Babu, B. V. | Graphic Era Deemed to be University | 83174 | 3330 | Chemical Engineering | 322 |
| Kumar, Satish | Maharishi Markandeshwar (Deemed to be University), Mullana | 46901 | 11604 | Polymers | 435 |
| Girish Kumar, S. | CMR University | 253371 | 4442 | General Chemistry | 892 |
| Vaidyanathan, Sundarapandian | Vel Tech Rangarajan Dr.Sagunthala R&D Institute of Science and Technology | 56827 | 3428 | Artificial Intelligence & Image Processing | 10 |
| Pabi, S. K. | Adamas University | 299304 | 2211 | Materials | 4132 |
| Kharb, Simmi | Pt. B.D. Sharma PGIMS, Rohtak | 296945 | 818 | General & Internal Medicine | 3435 |
| | | | | | |
References
https://elsevier.digitalcommonsdata.com/datasets/btchxktzyw/3?fbclid=IwAR3hwMId0tq0xhZPCGwiXtLEdwuvn7TToIafNeLgF8ezaRT9lQ__svOHvc4

Related Articles
1305
3
0
cookie-check
Stanford University's Top 2% Scientists (Career Impact) (1960-2020) List: Analysis of Private Universities in India