Using Scopus publication impact scores, experts from Stanford University have released a complete list of the top 2% world's most influential scientists [1]. Prof. John PA Loannidis and his colleagues at Stanford University [2] compiled the study, which Elsevier then published. In our previous articles, we mainly focused on researchers from all over the world, including the Stanford list. However, this article focuses on the European countries that play a significant role in global innovation and research development. In Stanford's list of 2% researchers, a total of 60065 researchers from European countries are selected. Figure 1 represents the distribution of research according to geographical location, and figure 1 shows that most of the researchers in the Stanford list are from the UK.
The number of researchers is an excellent criterion for analyzing the performance of different countries; however, the number of citations of the papers published by the researchers represents the quantitative work done by the researchers. Figure 2 represents this analysis.
The above analysis represents the performance of the different countries, but figure 3 represents the colleges' performance in the European countries. Along with colleges, the subject is also an important criterion for analyzing the European country's performances. Figure 4 represents the important subject selected by the researchers.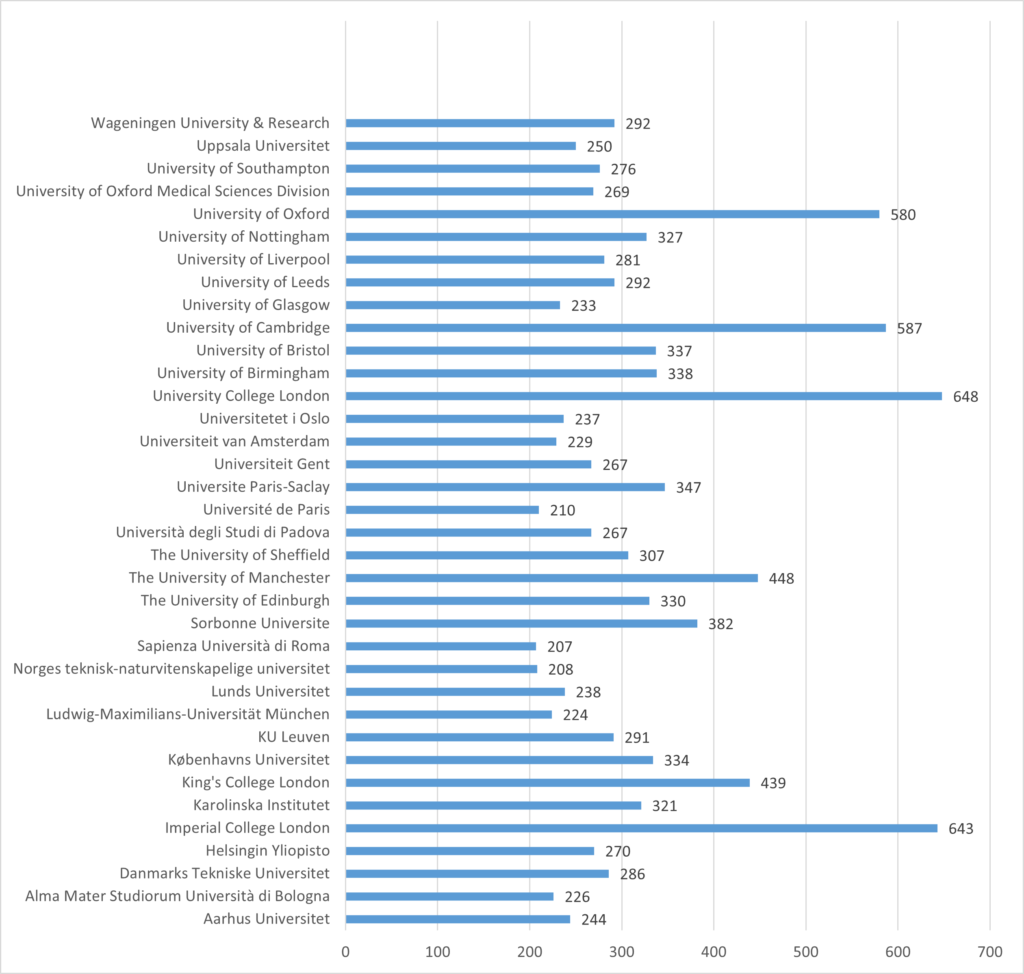 Table 1: Top 10 Researchers in Europe
| | | | | | | |
| --- | --- | --- | --- | --- | --- | --- |
| Name | Affiliation | Country | World Rank | Citations | Subject | Subject Rank |
| Kresse, Georg | Universitat Wien | aut | 5 | 222898 | Applied Physics | 1 |
| Friston, Karl J. | University College London | gbr | 7 | 155441 | Neurology & Neurosurgery | 1 |
| Barnes, Peter J. | National Heart and Lung Institute | gbr | 10 | 127398 | Respiratory System | 1 |
| Altman, Douglas G. | University of Oxford Medical Sciences Division | gbr | 11 | 398160 | General & Internal Medicine | 1 |
| Dinarello, Charles A. | Radboud University Nijmegen Medical Centre | nld | 27 | 96453 | Immunology | 2 |
| Corma, Avelino | Consejo Superior de Investigaciones Científicas | esp | 28 | 112082 | Physical Chemistry | 1 |
| Kroemer, Guido | Université de Paris | fra | 40 | 178434 | Immunology | 3 |
| Grimme, Stefan | Universität Bonn | deu | 43 | 83980 | Chemical Physics | 2 |
| Sheldrick, George M. | Georg-August-Universität Göttingen | deu | 44 | 137676 | Inorganic & Nuclear Chemistry | 1 |
| Rutter, Michael | King's College London | gbr | 53 | 74743 | Developmental & Child Psychology | 1 |
Table 2: Top 10 Countries in Europe
| | |
| --- | --- |
| Country | Number of Selected Researchers |
| gbr | 17237 |
| deu | 9986 |
| fra | 5912 |
| ita | 4956 |
| nld | 3857 |
| swe | 2889 |
| esp | 2813 |
| dnk | 1808 |
| bel | 1666 |
| fin | 1217 |
Table 3: Top 10 Colleges in Europe
| | |
| --- | --- |
| Universities | Number of researchers |
| University College London | 648 |
| Imperial College London | 643 |
| University of Cambridge | 587 |
| University of Oxford | 580 |
| The University of Manchester | 448 |
| King's College London | 439 |
| Sorbonne Universite | 382 |
| Universite Paris-Saclay | 347 |
| University of Birmingham | 338 |
| University of Bristol | 337 |
European Researchers in Stanford University's Top 2% Most Influential Scientists (Career Impact) (1960-2020) List
References:
https://elsevier.digitalcommonsdata.com/datasets/btchxktzyw/3?fbclid=IwAR3hwMId0tq0xhZPCGwiXtLEdwuvn7TToIafNeLgF8ezaRT9lQ__svOHvc4
Related Articles:
Stanford University's Top 2% Most Influential Scientists (Career Impact) (1960-2020) List: Analysis from Business and Marketing Subjects
Stanford University's Top 2% Most Influential Scientists (Career Impact) (1960-2020) List: Analysis of Private Universities in India
Stanford University's Top 2% Most Influential Scientists (Career Impact) (1960-2020) List: Analysis from Citations and Multi-disciplinary Research Aspects
Researchers in Stanford University's Top 2% Most Influential Scientists (Career Impact) (1960-2020) List
Indian Researchers in Stanford University's Top 2% Most Influential Scientists List for the Year 2020
1368
0
1
cookie-check
Stanford University's Top 2% Scientists (Career Impact) (1960-2020) List: Analysis of European Countries