Using Scopus publication impact scores, experts from Stanford University have released a complete list of the top 2% world's most influential scientists [1]. Prof. John PA Loannidis and his colleagues at Stanford University [2] compiled the study, which Elsevier then published. This article reviews all of the Stanford list's studies from an Artificial Intelligent and Networking perspective. Figure 1 displays the nations from which the Stanford list includes Artificial Intelligence & Image Processing, Networking & Telecommunications, and Information & Communication Technologies Subjects Researchers.
From Figure 1, we can say that most of the researchers from the USA are on the Stanford list with AI and Networking backgrounds. In order to get more clarity on this topic, we compare the number of citations of the published papers of AI and Networking background in figure 2. From figure 2, it is evident that most of the papers from the USA are referred by AI and Networking researchers.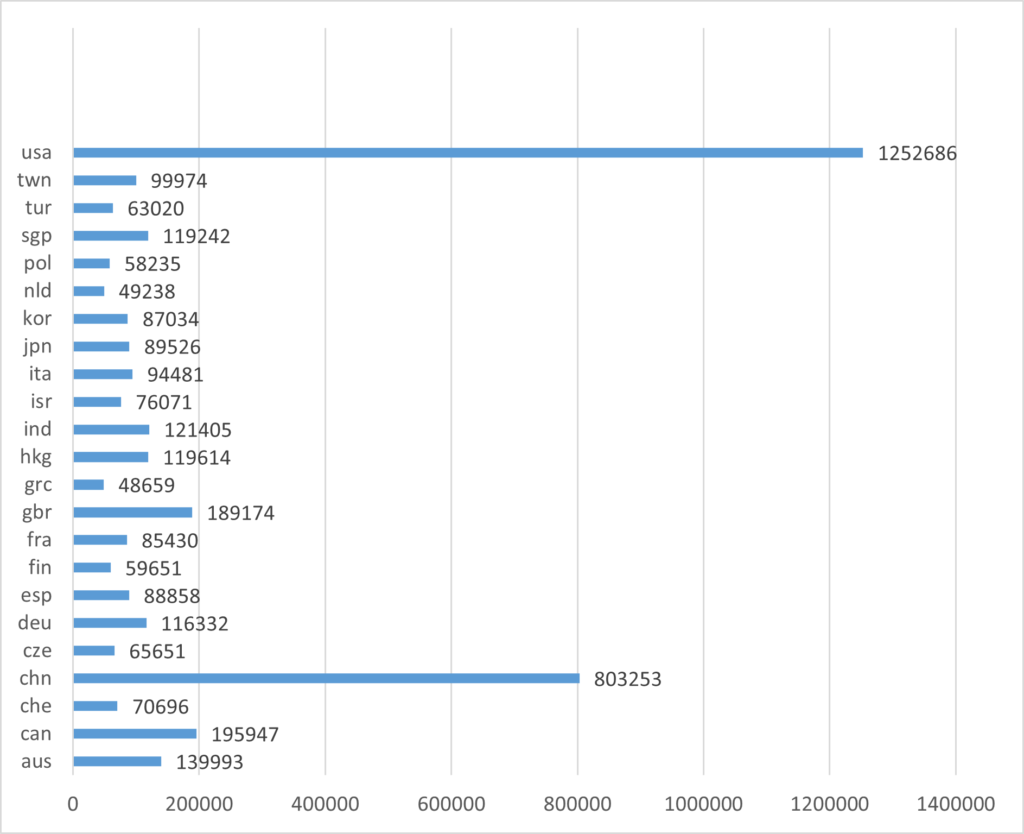 The above analysis represents the performance of the different countries, but figure 3 represents the colleges' performance in the Stanford list. Figure 4 represents the college performance according to the number of citations.
Table 1: Top 10 countries for Artificial Intelligence & Image Processing, Networking & Telecommunications, and Information & Communication Technologies Subjects
| | |
| --- | --- |
| Country | Number of Researchers |
| usa | 185 |
| chn | 118 |
| gbr | 43 |
| can | 34 |
| aus | 32 |
| ind | 31 |
| ita | 30 |
| twn | 29 |
| jpn | 26 |
| deu | 24 |
Table 2: Top 10 researchers for Artificial Intelligence & Image Processing, Networking & Telecommunications, and Information & Communication Technologies Subjects
| | | | | | |
| --- | --- | --- | --- | --- | --- |
| Name | Affiliation | Country | World Rank | Citation | Subject Rank |
| Zadeh, Lotfi A. | University of California, Berkeley | usa | 32 | 103161 | 1 |
| Yager, Ronald R. | Machine Intelligence Institute | usa | 112 | 37872 | 4 |
| Pedrycz, Witold | Systems Research Institute of the Polish Academy of Sciences | pol | 836 | 30889 | 15 |
| Herrera, Francisco | Universidad de Granada | esp | 800 | 54083 | 17 |
| Mallat, Stéphane | Collège de France | fra | 619 | 41247 | 18 |
| Mendel, Jerry M. | University of Southern California | usa | 861 | 28622 | 20 |
| Unser, Michael | Ecole Polytechnique Fédérale de Lausanne | che | 1071 | 28346 | 22 |
| Yao, Yiyu | University of Regina | can | 1484 | 15433 | 29 |
| Elad, Michael | Technion – Israel Institute of Technology | isr | 1309 | 39909 | 32 |
| Wei, Guiwu | Sichuan Normal University | chn | 3182 | 11084 | 38 |
Table 3: Top 10 Colleges for Artificial Intelligence & Image Processing, Networking & Telecommunications, and Information & Communication Technologies Subjects
| | |
| --- | --- |
| Colleges | Researcher Count |
| Indian Statistical Institute, Kolkata | 6 |
| Peking University | 6 |
| University of Cambridge | 6 |
| Xidian University | 6 |
| Aalto University | 5 |
| Deakin University | 5 |
| Purdue University | 5 |
| Shanghai Jiao Tong University | 5 |
| University of California, Berkeley | 5 |
| Yonsei University | 5 |
Table 2: Top 10 researchers from India for Artificial Intelligence & Image Processing, Networking & Telecommunications, and Information & Communication Technologies Subjects
| | | | | | |
| --- | --- | --- | --- | --- | --- |
| Name | Affiliation | Country | World Rank | Citation | Subject Rank |
| Pal, Sankar K. | Indian Statistical Institute, Kolkata | ind | 14225 | 13442 | 223 |
| Pal, Nikhil R. | Indian Statistical Institute, Kolkata | ind | 14683 | 13029 | 249 |
| Das, Swagatam | Indian Statistical Institute, Kolkata | ind | 37055 | 15602 | 667 |
| Chaudhuri, Bidyut B. | Indian Statistical Institute, Kolkata | ind | 39835 | 6637 | 685 |
| Mitra, Sushmita | Indian Statistical Institute, Kolkata | ind | 52595 | 5605 | 966 |
| Ghoshal, S. P. | National Institute of Technology, Durgapur | ind | 72092 | 4376 | 1021 |
| Konar, Amit | Jadavpur University | ind | 90023 | 5345 | 1328 |
| Majumdar, Angshul | Indraprastha Institute of Information Technology, Delhi | ind | 125815 | 2178 | 1727 |
| Cherukuri, Aswani Kumar | Vellore Institute of Technology | ind | 226772 | 1292 | 2390 |
| Dey, Nilanjan | Techno India College of Technology | ind | 192207 | 3374 | 2451 |
References:
https://elsevier.digitalcommonsdata.com/datasets/btchxktzyw/3?fbclid=IwAR3hwMId0tq0xhZPCGwiXtLEdwuvn7TToIafNeLgF8ezaRT9lQ__svOHvc4
Related Articles:
Stanford University's Top 2% Most Influential Scientists (Career Impact) (1960-2020) List: Analysis from Business and Marketing Subjects
Stanford University's Top 2% Most Influential Scientists (Career Impact) (1960-2020) List: Analysis of Private Universities in India
Stanford University's Top 2% Most Influential Scientists (Career Impact) (1960-2020) List: Analysis from Citations and Multi-disciplinary Research Aspects
Researchers in Stanford University's Top 2% Most Influential Scientists (Career Impact) (1960-2020) List
Indian Researchers in Stanford University's Top 2% Most Influential Scientists List for the Year 2020
1410
2
0
cookie-check
Top 2% Most Influential Scientists (Career Impact) (1960-2020) in Stanford University List: Analysis of Artificial Intelligence & Image Processing, Networking & Telecommunications, and Information & Communication Technologies Subjects Researchers