The Institute for Scientific Information's specialists exclusively disclose the list of 2021 Highly Cited Researchers [1]. According to Web of Science [2,] the list contains pioneers in their fields, as shown by multiple highly referenced publications that rank in the top 1% of respective fields and years in terms of citations. It's been almost a decade since the Highly Referenced Academics list was formed to recognize researchers and social scientists worldwide who have impacted their areas via the publication of several articles that have been frequently mentioned by their peers. This article discusses Web of Science research from the standpoint of computer science. This list includes a total of 111 researchers; The location of these scholars on the global map is shown in Figure 1. As can be seen, China has the biggest concentration of top 1% of most cited scientists.
As we know that citation and H-index are good indicators for the performance of the researchers. In this context, figure 2 and figure 3 represent the H-index and the total number of citations according to the countries. From figure 2 and figure 3 it is clear that US researchers have higher citations but Chines researchers have the highest H-index.
Figure 4 and Figure 5 represent the statistics of H-index and citation according to different universities.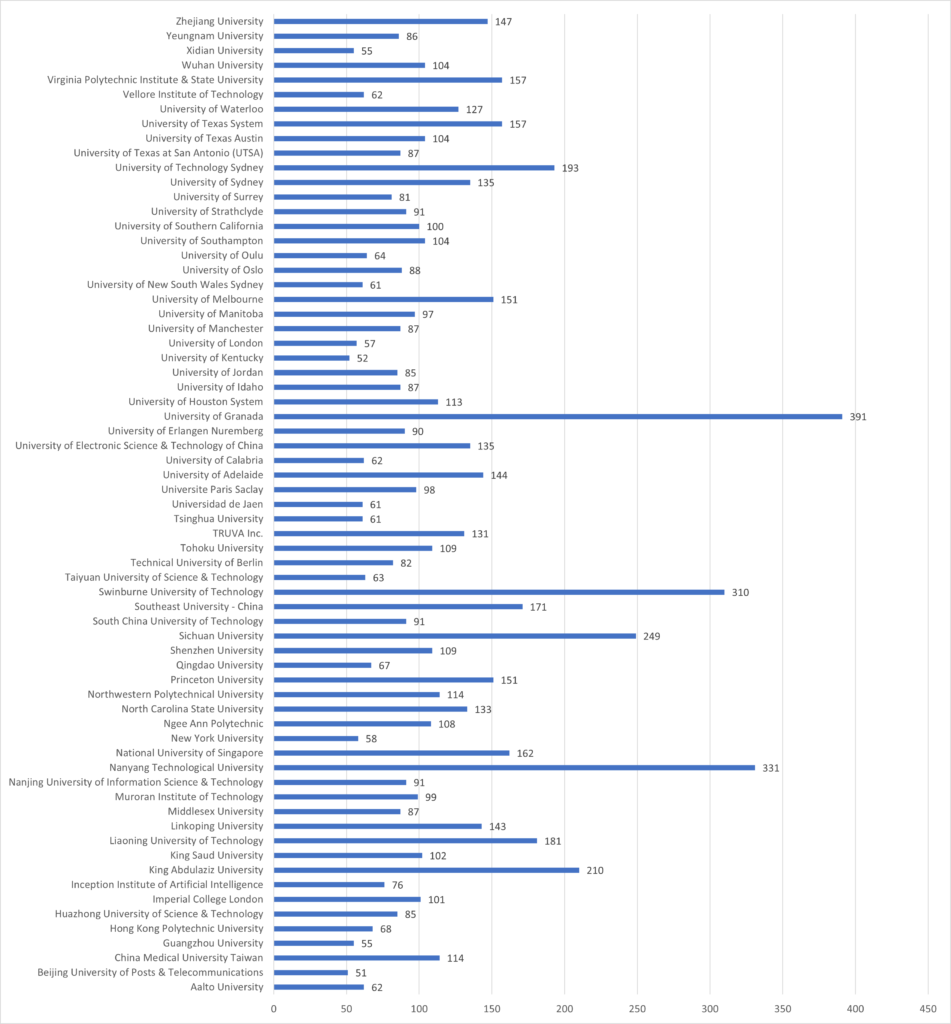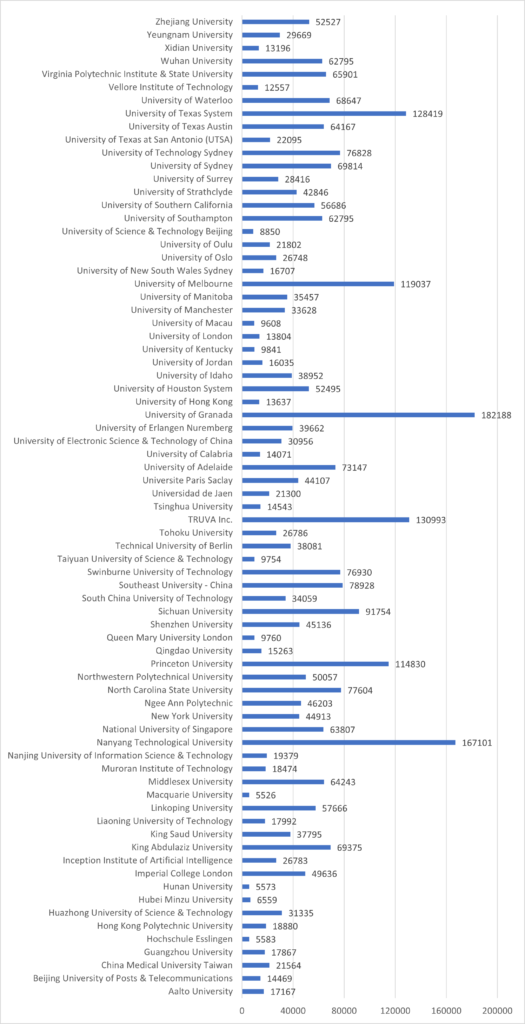 Table 1: List of 2021 Highly Cited Researchers by Clarivate (WoS) (Computer Science)
| First Name | Last Name | Primary Affiliation | Country |
| --- | --- | --- | --- |
| U. Rajendra | Acharya | Ngee Ann Polytechnic | Singapore |
| Ian F. | Akyildiz | TRUVA Inc. | United States |
| Ibrahim | Aljarah | University of Jordan | Jordan |
| Jeffrey G. | Andrews | University of Texas Austin | United States |
| Mehdi | Bennis | University of Oulu | Finland |
| Emil | Björnson | Linkoping University | Sweden |
| Rajkumar | Buyya | University of Melbourne | Australia |
| Xingjuan | Cai | Taiyuan University of Science & Technology | China Mainland |
| Giuseppe | Caire | Technical University of Berlin | Germany |
| Jinde | Cao | Southeast University - China | China Mainland |
| C. L. Philip | Chen | South China University of Technology | China Mainland |
| Jinjun | Chen | Swinburne University of Technology | Australia |
| Min | Chen | Huazhong University of Science & Technology | China Mainland |
| Xiaofeng | Chen | Xidian University | China Mainland |
| Francisco | Chiclana | University of Granada | Spain |
| Zhihua | Cui | Taiyuan University of Science & Technology | China Mainland |
| Linglong | Dai | Tsinghua University | China Mainland |
| Merouane | Debbah | Universite Paris Saclay | France |
| Yong | Deng | University of Electronic Science & Technology of China | China Mainland |
| Zhiguo | Ding | University of Manchester | United Kingdom |
| Mianxiong | Dong | Muroran Institute of Technology | Japan |
| Yucheng | Dong | Sichuan University | China Mainland |
| Maged | Elkashlan | University of London | United Kingdom |
| Zubair Md. | Fadlullah | Tohoku University | Japan |
| Hossam | Faris | University of Jordan | Jordan |
| Giancarlo | Fortino | University of Calabria | Italy |
| Hamido | Fujita | University of Granada | Spain |
| Erik G. | Larsson | Linkoping University | Sweden |
| Amir H. | Gandomi | University of Technology Sydney | Australia |
| Xiaohua | Ge | Swinburne University of Technology | Australia |
| Mohsen | Guizani | University of Idaho | United States |
| Song | Guo | Hong Kong Polytechnic University | Hong Kong |
| Harald | Haas | University of Strathclyde | United Kingdom |
| Yuki | Hagiwara | Hochschule Esslingen | Germany |
| Qing-Long | Han | Swinburne University of Technology | Australia |
| Zhu | Han | University of Houston System | United States |
| Lajos | Hanzo | University of Southampton | United Kingdom |
| Debiao | He | Wuhan University | China Mainland |
| Robert W. | Heath | North Carolina State University | United States |
| Francisco | Herrera | University of Granada | Spain |
| Enrique | Herrera-Viedma | University of Granada | Spain |
| Ekram | Hossain | University of Manitoba | Canada |
| Guang-Bin | Huang | Nanyang Technological University | Singapore |
| Kaibin | Huang | University of Hong Kong | Hong Kong |
| Thomas J. R. | Hughes | University of Texas System | United States |
| Yaochu | Jin | University of Surrey | United Kingdom |
| Nei | Kato | Tohoku University | Japan |
| Neeraj | Kumar | King Abdulaziz University | Saudi Arabia |
| Arun | Kumar Sangaiah | Vellore Institute of Technology | India |
| Victor C. M. | Leung | Shenzhen University | China Mainland |
| Geoffrey Ye | Li | Imperial College London | United Kingdom |
| Hongyi | Li | Guangdong University of Technology | China Mainland |
| Jin | Li | Guangzhou University | China Mainland |
| Xuelong | Li | Northwestern Polytechnical University | China Mainland |
| Yongming | Li | Liaoning University of Technology | China Mainland |
| Huchang | Liao | Sichuan University | China Mainland |
| Chong | Lin | Qingdao University | China Mainland |
| Yan-Jun | Liu | Liaoning University of Technology | China Mainland |
| Yuanwei | Liu | Queen Mary University London | United Kingdom |
| Wenjing | Lou | Virginia Polytechnic Institute & State University | United States |
| Majdi | Mafarja | King Abdulaziz University | Saudi Arabia |
| Luis | Martinez | Universidad de Jaen | Spain |
| Thomas L. | Marzetta | New York University | United States |
| Seyedali | Mirjalili | King Abdulaziz University | Saudi Arabia |
| Andreas F. | Molisch | University of Southern California | United States |
| Derrick Wing Kwan | Ng | University of New South Wales Sydney | Australia |
| Hung | Nguyen-Xuan | China Medical University Taiwan | Taiwan |
| Zhaolong | Ning | Chongqing University of Posts & Telecommunications | China Mainland |
| Dusit | Niyato | Nanyang Technological University | Singapore |
| Kaoru | Ota | Muroran Institute of Technology | Japan |
| Ju Hyun | Park | Yeungnam University | South Korea |
| Mugen | Peng | Beijing University of Posts & Telecommunications | China Mainland |
| H. Vincent | Poor | Princeton University | United States |
| Lianyong | Qi | Qufu Normal University | China Mainland |
| Timon | Rabczuk | King Saud University | Saudi Arabia |
| Kim-Kwang | Raymond Choo | University of Texas at San Antonio (UTSA) | United States |
| Kui | Ren | Zhejiang University | China Mainland |
| Walid | Saad | Virginia Polytechnic Institute & State University | United States |
| Robert | Schober | University of Erlangen Nuremberg | Germany |
| Ling | Shao | Inception Institute of Artificial Intelligence | United Arab Emirates |
| Xuemin (Sherman) | Shen | University of Waterloo | Canada |
| Peng | Shi | University of Adelaide | Australia |
| Ponnuthurai N. | Suganthan | Nanyang Technological University | Singapore |
| Xingming | Sun | Nanjing University of Information Science & Technology | China Mainland |
| Tarik | Taleb | Aalto University | Finland |
| Jen Hong | Tan | National University of Singapore | Singapore |
| Dacheng | Tao | University of Sydney | Australia |
| Shaocheng | Tong | Liaoning University of Technology | China Mainland |
| Athanasios V. | Vasilakos | University of Technology Sydney | Australia |
| Shaohua | Wan | King Abdulaziz University | Saudi Arabia |
| Huanqing | Wang | King Abdulaziz University | Saudi Arabia |
| Ping | Wang | Nanyang Technological University | Singapore |
| Qingqing | Wu | University of Macau | Macau |
| Zheng-Guang | Wu | Zhejiang University | China Mainland |
| Yang | Xiang | Swinburne University of Technology | Australia |
| Xiaolong | Xu | Nanjing University of Information Science & Technology | China Mainland |
| Zeshui | Xu | Sichuan University | China Mainland |
| Xin-She | Yang | Middlesex University | United Kingdom |
| Fei | Yu | Shenzhen University | China Mainland |
| Sherali | Zeadally | University of Kentucky | United States |
| Xiangxiang | Zeng | Hunan University | China Mainland |
| Yong | Zeng | Southeast University - China | China Mainland |
| Jianming | Zhan | Hubei Minzu University | China Mainland |
| Haijun | Zhang | University of Science & Technology Beijing | China Mainland |
| Rui | Zhang | National University of Singapore | Singapore |
| Xian-Ming | Zhang | Swinburne University of Technology | Australia |
| Xuyun | Zhang | Macquarie University | Australia |
| Yan | Zhang | University of Oslo | Norway |
| Xiaoying | Zhuang | China Medical University Taiwan | Taiwan |
| Quan | Zou | University of Electronic Science & Technology of China | China Mainland |
References:
https://clarivate.com/highly-cited-researchers/highly-cited-researchers-2021-executive-summary/?fbclid=IwAR1c6DfTBFYei4Xl1gbCvwWI_8kXpXWhSIiZhgS5MO-2Fq5pH6i2cKv13I4
Related articles
1850
0
0
cookie-check
Computer Science's Highly Cited Researchers in 2021 by Clarivate (Web of Science)